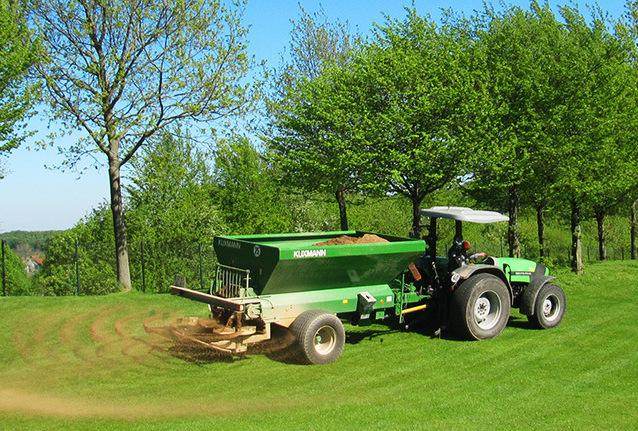 The sand spreader is characterized above all by its ease of use. When we created this machine, we made a special emphasis on the needs and conditions of daily use on golf courses with its light weight and grass-friendly tires.
The spreaders can be equipped with a
Control system
, which also enables the possibility of
Precision Spreading
. An example configuration of a Control System driven spreader can be a weighting system, hydraulic controlled spreading discs, a hydraulic driven conveyor and a precision GPS system.
For the perfect lawn
For sand, soil, lime and fertilizer to maintain golf courses, sports areas and many more.
The sand spreader KURIER by KUXMANN is designed for the professional spreading of sand on golf courses, sports fields, parks and any other outside areas. From spreading on narrow lanes and trails, like pathways- and roadmaking to wide area spreading, like on sports fields and parking places. With the capacity of 3 m³, the spreader can fulfill any demand.
The material is distributed with a centrifugal-disc module equipped with two discs. This solution guarantees an even spreading pattern. Since KUXMANN brings in more than 120 years of experience in spreading, we are sure this spreader can meet your high expectations.
Whether with a manual or hydraulic control-system the special design enables the operator to spread the material in the desired amount and width.
– Double disc spreading unit
– Spreading discs
– Spreading vanes
– Light carrier
– Splash plate
– Gear box cover made of Inox (stainless steel)
– Wide Angle Drive Shaft
– Brake system
– Sprung drawbar
– Top- or bottom hitch
– Two conveyor speeds
– Ground drive for the conveyor belt
– Adjustable volume control
– Removable conveyor frame
– Automatic belt control
– Adjustable fertilizer/lime application point
– Rake for uniform lime distribution
– Double volume adjustment guide
– Ladder
– Support jack
– Electric lighting
– Two wheel chocks
– Parking brake
Container/Hopper capacity: 3 m³
Max total weight: 6t
Custom tailored sizes upon request!
For sand, soil, lime and fertilizer to maintain golf courses, sports areas and many more.