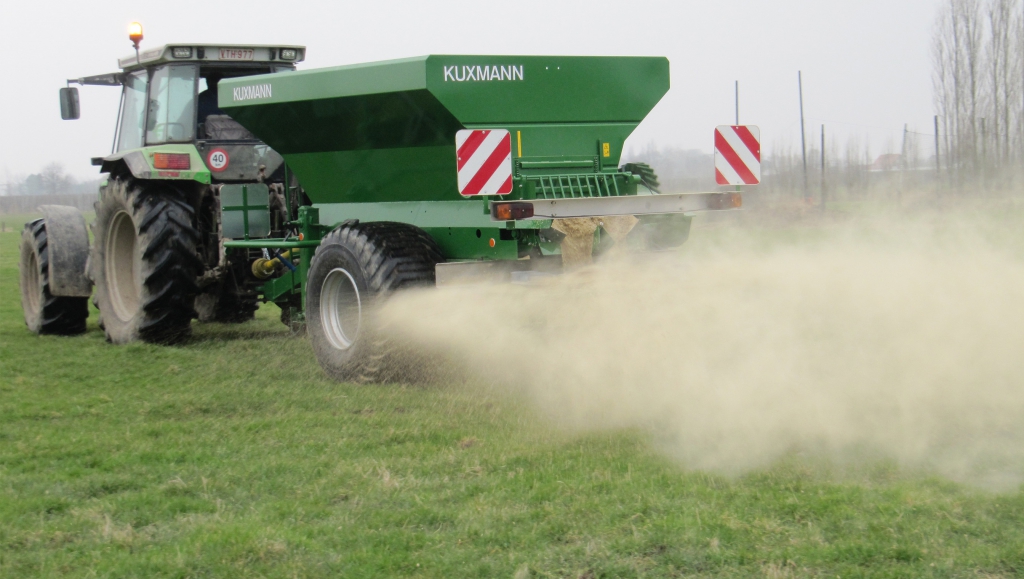 Machines for Agriculture
KUXMANN offers a great range of spreaders in various sizes, with many ways of application, for a wide spectrum of materials.
The KURIER Fertilizer Spreader – a Large Area Spreader with the refined conveyor belt system for spreading dust, dry and powder-formed material like granulate/mineral fertilizers and more.
The KURIER Lime Spreader with the advanced two disc spreading module or with the auger distribution module spreads a range of 6m and 9m and used for dry lime and dust and powder-formed fertilizer.

Machines for Construction Industry
With the binding agent spreaders and the grit or sand spreaders, KUXMANN offers a comprehensive range of machines.
BMS – Binding Agent Spreaders are available in capacities from 3m³ to 14m³ and are equipped with a rotary feeder by default.
KUXMANN Grit and Sand Spreaders are available in the hopper capacities from 5m³ to 14m³. The distribution of the material is done by a centrifugal spreading unit, which guarantees an even spreading pattern.
The liquid manure refills the nutrient storage of the soil. The lime enables the soil to retain these nutrients and release them back to the
Three-point Binding agent spreader The 3M and 4M binding agent spreaders are highly
For privacy reasons YouTube needs your permission to be loaded. For more details, please see our
Datenschutz
.
I Accept
During the development of our machines, we pay great attention to ensure simplicity of operation and maintenance. All machines are universal in application and suitable for different situations.
Many decades of service life, exceptional reliability and customer satisfaction are the highlights of our products.